Kent Police appeal over Anthony Raynor's final hours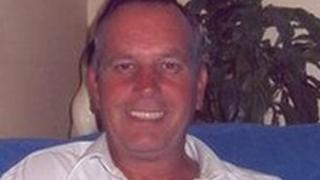 Police investigating the death of a pedestrian who was struck by a car on an unlit rural road have appealed for help piecing together his final hours.
Anthony Raynor, 50, was killed as he walked along the A28 near Upstreet, just after midnight on 10 November.
Mr Raynor, of Canterbury, was last seen at a bingo hall in Broadstairs at 16:00 GMT the previous afternoon.
PC Guy Ditcher, of Kent Police, appealed to anyone who saw Mr Raynor on the day he died.
He said: "Following the post-mortem examination, there is no suggestion that he had some kind of medical episode or any other reason that may have caused him to become disorientated."
Mr Raynor's daughter, Mandy Colson, said his death had left a "huge hole" in their lives.