Dover People's Port Trust offer 'shares' to residents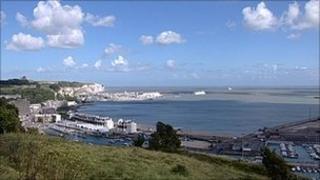 Thousands of letters have been sent to homes in Dover urging residents to buy "shares" in a group that wants to take over the town's historic port.
The Dover People's Port Trust (DPPT) wants to stop the port being privatised and is selling membership for £10.
This would allow people to vote on its board but not receive a dividend.
But the Dover Harbour Board, which runs the port and wants to privatise it, said its proposal was the only one being considered by government.
Neil Wiggins, chairman of the DPPT, said the response to the membership offer had been enthusiastic and that 55,000 letters had been sent out.
He said: "Under the people's port proposal we will have a board of directors who would be appointed directly by the membership.
"This would be a truly community-based board of directors with the right expertise to take the port forward.
"It won't be just theoretical accountability. It would be real accountability to the very people that the port affects most."
'Community participation'
In August the current owner, Dover Harbour Board, was asked by the government to resubmit its proposals after new criteria for selling large ports was implemented.
The government said any sale must include a "significant level of community participation".
Chief executive of Dover Harbour Board, Bob Goldfield, said the port needed to privatise so it can borrow money to pay for large projects.
He said: "Dover Harbour Board owns the port of Dover. The only scheme that's being considered by government is the scheme we put forward."
Mr Goldfield added that he expects a decision to be made by the government within the next six to eight months.