Medway fails in city status bid for Diamond Jubilee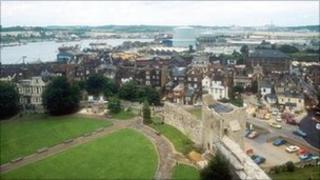 Medway has missed out on a chance to become a city as part of the Queen's Diamond Jubilee celebrations.
Twenty-five other towns across the country also applied for city status, with Chelmsford, Perth and St Asaph winning the right.
The area of Medway includes the towns of Gillingham, Rochester and Chatham.
The council believed being recognised as a city, rather than a series of towns, would have brought investment and jobs to the area.
In the last contest - held in 2002 for the Queen's Golden Jubilee - Preston, Newry and Newport were among the winners.
Medway made two unsuccessful bids in 2000 and 2002. On the last occasion it lost out to Brighton and Hove.
'Rich heritage'
Council leader Rodney Chambers congratulated the three new winners.
"While we were, of course, hoping Medway would gain city status, we believe the bid created a huge amount of national publicity and this has helped raise our profile and show people how much this area has to offer," he said.
"It is true to say that not only does Medway have a rich heritage, it also has a great future - its four universities, unrivalled transport links to the capital and continent and an increasingly more skilled workforce all vouch for that.
"The bid also shows that we have come such a long way since the 1980s when the naval dockyard in Chatham closed."
Labour leader at the council, Paul Godwin said: "Though we are disappointed to miss out on city status for Medway this year, it is important that all the effort put into this campaign is harnessed to promote the continued development of the Medway Towns".