Tunbridge Wells bar 'midgets' ad ruled offensive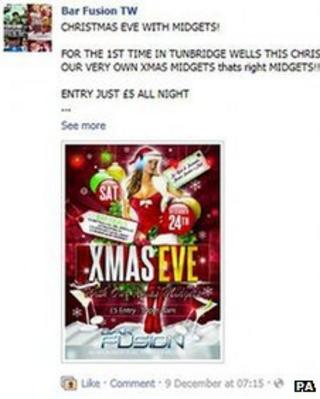 A bar which promised revellers the chance to party with "our very own Xmas midgets" acted offensively and irresponsibly, a watchdog has ruled.
Bar Fusion's Facebook page read: "Christmas Eve with midgets! For the first time in Tunbridge Wells party with our very own Xmas midgets."
The Advertising Standards Agency (ASA) upheld the complaint, saying it was likely to cause widespread offence.
Facebook told the ASA the page was entirely user-generated.
The advert continued: "That's right Midgets!!!!!!!!! Entry just £5 all night."
A reader complained that the advert, and in particular the use of the word midgets, was offensive and reinforced negative stereotypes towards short statured people.
Bar Fusion said it was not intended to cause offence and with hindsight "felt they must apologise for doing so", the ASA said in its ruling.
The bar added that the night and artists were booked by an outside promoter who used the term, and it therefore believed that it was acceptable and would not cause offence.
Facebook said the ad had not been paid for, was entirely user-generated and that the social networking site did not monitor, review or verify the claims.
Upholding the complaint, the ASA said the ad "portrayed the presence of individuals of short stature as an attraction and source of entertainment".
It added: "We therefore considered the ad was likely to cause serious and widespread offence.
"We also considered the ad promoted negative attitudes towards individuals of short stature and was therefore irresponsible."
It ruled that the ad must not appear again in that form and told Bar Fusion to ensure that its ads were prepared "with a sense of social responsibility" and did not cause offence in future.
A spokeswoman for the ASA said that its remit was extended in March last year to cover marketing messages for events posted on social networking sites.