Faversham Trafalgar gunpowder museum 'in crisis'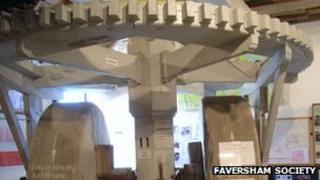 A museum in a Kent mill which was believed to have supplied gunpowder for the Battle of Trafalgar is facing a "crisis" due to a lack of volunteers.
The Chart Gunpowder Mills in Faversham were established in about 1560.
The Faversham Society, which runs the museum, said it had reached "crisis point" in trying to keep the attraction open to the public.
Jenny Parry said: "We can keep these attractions and facilities available to everyone - but we do need help."
She added: "We can't continue like this.
"Unless more local people come forward, we will have to consider closing the museum on certain days each week and only opening Chart Mills to visitors by appointment, which would be a huge shame."
The mills were rebuilt in the 18th Century when the government took control of Chart Mills.
The Faversham Society described the mills as being "the centre of the nation's explosives industry for 400 years" and "the oldest of their kind in the world".