M20 Operation Stack barrier to be removed to save money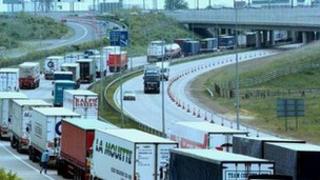 A moveable barrier aimed at reducing the traffic chaos caused in Kent when lorries cannot cross the Channel from Dover is to be removed to save money.
The concrete quick moveable barrier (QMB) was installed between junctions 11 and 12 of the M20 four years ago as part of Kent Police's Operation Stack.
It allowed the London-bound carriageway to be used for coastbound traffic.
The Highways Agency said it had been decided not to renew the £627,849-a-year lease for the QMB.
It said the lease expired in April and the decision had been taken following a value-for-money review which found the barrier had not been used as much as expected.
Highways Agency service manager Simon Duke said the QMB had been used on only two occasions - once during a routine Operation Stack incident and for a number of months when Operation Stack was used following a fire in the Channel Tunnel.
"Ahead of the renewal of the lease, we have considered all the options, and decided that it is in taxpayers' best interests for the QMB to be removed," he said.
The agency said it remained committed to working with Kent Police, Kent County Council and other partners to find a long-term solution to address the impact of Operation Stack.