M20 barrier branded 'expensive failure' by Kent MP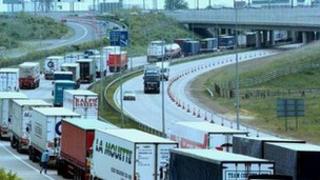 A moveable barrier which aimed to reduce traffic chaos caused when lorries could not cross the Channel has been branded an "expensive failure" by a Kent MP.
The quick moveable barrier (QMB), which costs £627,849 a year, was installed on the M20 four years ago as part of Kent Police's Operation Stack.
On Wednesday the Highways Agency announced it would be scrapped.
Damian Collins MP said the barrier had been a "middle of the road" solution.
Operation Stack is launched when lorries bound for the Port of Dover are forced to park on sections of the motorway due to cross-Channel delays.
The concrete barrier was intended to improve the contraflow system during these times, allowing some traffic to keep moving.
The Highways Agency said the barrier, which was installed between junctions 11 and 12, had only been used twice.
'Taxpayers' best interests'
Conservative MP Mr Collins said it had ended up being "neither one thing nor the other".
"If there was a chronic instance of Operation Stack like the ones we saw three or four years ago, where you get several days of disruption and a large amount of lorries looking for somewhere to park, the moveable barrier was never really going to be able to cope with that sort of a problem anyway," he said.
"What we need to do is look for a longer-term solution and I think we should see the barrier really as an expensive failure."
Highways Agency service manager Simon Duke said it was in the "taxpayers' best interests" for the QMB to be removed.