Dungeness power plant job losses tackled in action plan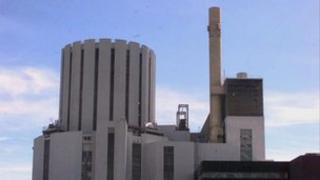 An action plan has been drawn up in a bid to deal with the loss of jobs when a nuclear power station in Kent closes.
Dungeness A, on the Romney Marsh, was retired in 2006 and is now being decommissioned.
It is due to fully close in five years' time with the loss of about 400 highly-skilled jobs.
Shepway District Council has put forward a raft of ideas to lessen the impact of the closure on the surrounding area.
Dungeness A, which started generating power in 1965, was joined by Dungeness B in 1983.
'Very serious'
The second plant, operated by EDF, is due to close in 2018 or 2023.
Together, the plants account for 8% of all employment in the Romney Marsh area.
Some had hoped a third power station would be built there but the site is not on the preferred list of new UK atomic plants.
Alan Clifton-Holt, who is in charge of economic development at Shepway Council, said the plant's closure would have "greater significance" than Pfizer's decision to close its research and development facility in Sandwich.
He said: "If you look over the next five to 10 years, with Dungeness A and Dungeness B, there's about 1,000 jobs to go in that area.
"We aren't going to change things overnight, we realise it's a long-term plan. We have to start thinking about what happens if we don't get Dungeness C."
The report puts forward several ideas including:
The creation of a small business hub on the Mountfield Road industrial estate
Training for workers to find alternative employment
Improvements to public transport
Supporting the Marsh Academy to offer relevant further education courses
Peter Hobbs, the chief executive of the Channel Chamber of Commerce, said the report had "all the ingredients".
"We need local businesses to help drive this agenda, it's their growth that will provide new jobs," he added.
Damian Collins, the Conservative MP for Folkestone and Hythe, said he had not given up on Dungeness C.
He said: "The government has said it is open-minded about having a third generation nuclear power station there. I'm obviously pressing for it."