Young artists' work at Margate's Turner Contemporary gallery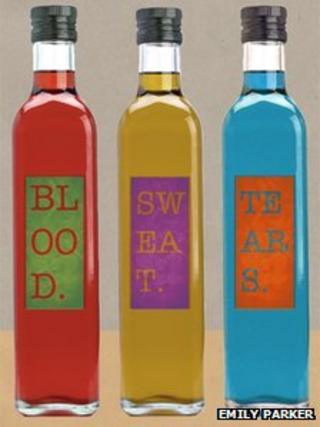 The Turner Contemporary gallery in Margate is to showcase the work of 26 young artists from Kent.
The artists won the chance to show off their work in a competition with the theme of Determination and Courage.
Over 400 entries were received in the Page Turner competition run by the gallery and the University for the Creative Arts (UCA).
The gallery's Learning Studio will host the display of winning entries between 21 and 29 April.
Gill Wilson, from UCA Canterbury, said: "Once again we were blown away by the quality of entries that came in for the Page Turner competition.
"Kent has some very talented young artists coming through.
"We were really impressed by the different variations on our Olympic theme and pleased to see that so many entrants were brave enough to move away from sport altogether at times."
UCA will have two students showing their work at Turner Contemporary after winning both of the spaces in the Higher Education category.
Emily Parker, who studies at UCA Maidstone, won the overall prize, while Cath Perkins, a graphic design student at UCA Canterbury, was runner-up.
Karen Eslea, Head of Learning at Turner Contemporary, said: "It is wonderful to see so many creative young people working very hard and enjoying the support of their parents and teachers.
"Creativity is of course vital to artists, but is also a skill that can help people to excel in many other areas of their lives."