Gravesend Vaisakhi celebration procession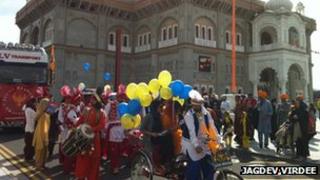 The Sikh festival of Vaisakhi has been celebrated with a procession through the streets of Gravesend.
The nagar kirtan (procession) set off from the Guru Nanak Darbar Gurdwara at about 11:30 BST and passed through the town centre.
Bakhshish Singh Sodhi said: "The procession and celebrations have become part of Gravesend's annual programme of celebrations."
Roads were closed in the town centre to allow the procession to pass.
The event was organised in consultation with Kent Police and Gravesham Borough Council.
It was lead by a nagara (large drum lorry), followed by flag bearers and dancers.
There were also vehicles from the Guru Nanak football club and Guru Nanak and Milan day centres for the elderly.
The main religious service in the gurdwara to celebrate Vaisakhi will be held on Sunday.
Vaisakhi is the Sikh New Year festival and is one of the most important dates in the Sikh calendar.
It also commemorates 1699, the year Sikhism was born as a collective faith.