Newington skaters raise money for new park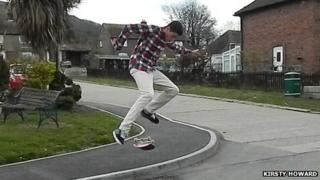 A group of teenagers has started a campaign to raise £35,000 for a new stake park and outdoor gym in their Kent village.
They have already been given permission by Newington Parish Council to use an area of the King George V playing field in the village.
The young skaters said previously they used an area outside an old barn, which was now being turned into a museum.
Sean Howard, 14, said: "People hate us skating in the street."
Rather than give up, or continue to be a nuisance to their neighbours, they decided to start fundraising for a playground of their own.
The money is needed to dig out the land, before it is resurfaced and equipment installed. They are also looking at installing some outdoor fitness equipment for use by the whole community.
They have named their new park the Queen Elizabeth II Diamond Jubilee Park.
"There is nowhere really for us to go," Sean added.