Three arrested over Gillingham car wash shooting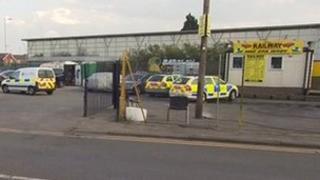 Three men have now been arrested after a shooting at a Kent car wash in which two men were injured.
The shooting is believed to be connected with a business dispute, Kent Police have said.
Two men were injured at the car wash in Railway Street, Gillingham, at about 12:30 BST on Friday.
One of them suffered a serious injury to his leg and both men were taken to hospital for treatment. Their injuries are not life threatening.
Police arrested one man after surrounding a block of flats in Cross Street, Hardsdown, Chatham on Friday.
Two more men were arrested at 11:30 BST on Saturday and two men suspected of carrying out the shooting are still being sought.
Police had previously said three people were injured at the site which contains several vehicle-related businesses.