Tunbridge Wells garden searched for human remains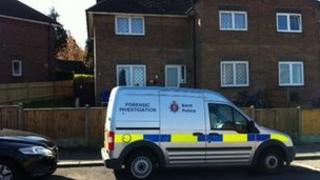 The garden of a house is being searched by police in Kent investigating reports that human remains may be buried there.
The detailed forensic examination of the garden of the three-bedroom semi-detached property in Rankine Road, Tunbridge Wells, began on Monday.
Detectives said it was related to a possible crime committed in the late 1950s in which a young woman died.
They added that the family living at the address were not connected in any way to the investigation.
They have vacated the property, which is on the Sherwood estate, while the work takes place.
Jenny Baker told the BBC she contacted police on behalf of her mother, who once lived in the property with her aunts.
"The girl that we believe is buried in the garden is a girl by the name of Laura," she said.
"We don't know if it is her proper name. They all know the same story of how they heard screaming, how the girl was introduced and how she disappeared as quickly as she was introduced.
"If nothing is found then things can be laid to rest either way."
Det Insp Lee Whitehead, from the Kent and Essex Serious Crime Directorate, said: "We are today beginning the search at 48 Rankine Road and I do not know at this time how long the search will take.
"We are focusing on this property after receiving information that human remains may be buried in the garden from a possible offence dating back to the late 1950s.
"It is important to see whether this piece of information will in fact lead us to a historical crime which was never reported to police at the time."
Officers have received specialist assistance from the Home Office Scientific Development Branch and from forensic scientists working within the directorate.
A mobile police station will be sited in Rankine Road for the duration of the search for anyone who has any concerns or information which they think may help detectives with their inquiries.