Dungeness nuclear power plant reaches decommissioning milestone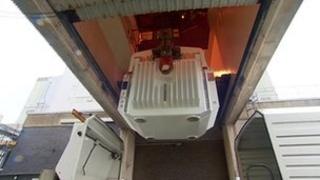 The decommissioning of a nuclear power plant in Kent has reached a milestone.
Engineers have removed the final flask of spent nuclear fuel from Dungeness A on the Romney Marsh and taken it to Sellafield for reprocessing.
The plant was retired in 2006 and is due to fully close in five years time with the loss of about 400 highly-skilled jobs.
It began operating in 1965 and in its heyday generated enough electricity for the South East of England.
The first stage of decommissioning has involved the removal of all the fuel from the two reactors.
'Tremendously proud'
The next stage will involve removing the plant and buildings and leaving the reactor to cool.
The radioactivity, however, is required to degenerate to a level considered safe enough for workers to enter and demolish the reactors.
Final site clearance is not due to be given until at least 2087, according to the Nuclear Decommissioning Authority.
Steve Matthews, the plant manager, said: "When we were at full power, it was noisy, it was hot, it was a great place to be for me with an ops background.
"Now I'll hand it over to someone else and unfortunately they can go and knock it all down."
Site director Ray Jepps said he was "tremendously proud" to be ahead of schedule.
Dungeness A was joined by a second plant in 1983.
Dungeness B, operated by EDF, is due to close in 2018 or 2023 if granted an extension.
Together, the plants account for 8% of all employment in the Romney Marsh area.
An action plan has already been drawn up by Shepway Council to lessen the impact of the closure of Dungeness A and the subsequent loss of jobs.
Some people had hoped a third power station would be built there but the site is not on the preferred list of new UK atomic plants.