Tunbridge Wells garden search family return home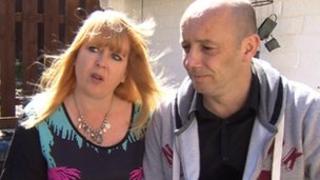 A family whose garden was dug up by police after a tip-off human remains were buried there say the upheaval stirred up a range of emotions.
JoJo Stanley and Warren Light, who had no connection with the investigation, have now returned to their home in Rankine Road, Tunbridge Wells.
Kent Police searched an area that was once a pond in connection with a possible crime committed in the 1950s.
On Tuesday morning officers said no human remains had been found.
The detailed forensic search at the three-bedroom semi-detached property began on Monday.
Det Insp Lee Whitehead said police had received information that human remains may have been buried in the garden in the late 1950s.
Ms Stanley and Mr Light vacated the house, on the Sherwood Estate, and were put up in a hotel for two nights.
"You do find yourself going through the whole spectrum of emotions," said Ms Stanley.
"There is anger, fear, worry - everything you can imagine that has gone on - not just in my own head but my children's as well."
Mr Stanley said the family built themselves up to believe remains might be found and now faced a set of different emotions.
Jenny Baker, the daughter of a former occupant of the house, said she contacted police on behalf of her mother.
She said her mother and aunts believed a girl called Laura was buried in the garden.
But other family members felt their father, who is now dead, was being unfairly implicated in a possible crime.
"My dad wouldn't hurt a fly," said Billy Newell. "It has been sheer fabrication."
Johnny Newell said: My dad was my idol - I loved him, I worshipped him."
Mr Whitehead thanked residents in Rankine Road and the surrounding area for their co-operation and patience while the investigation was carried out.