Firefighter tells of search at Chatham fatal arson house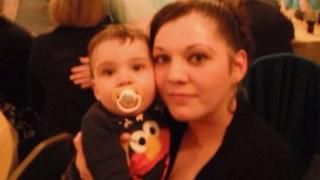 A firefighter carried out a desperate search for survivors of an arson attack at a house that killed a woman, her son and her father, a court heard.
Stephen Enright said he was told people were trapped inside the house in Chatham, Kent, last September.
Melissa Crook, 20, her 15-month-old son Noah, and father Mark Crook, 49, died.
Ms Crook's estranged husband, Danai Muhammadi, 24, his girlfriend Emma Smith, 21, and his friend Farhad Mahmud, 35, deny murder.
Mr Enright told Maidstone Crown Court a crew tried to dampen the flames of the "intense" fire in the hallway of the three-bedroom terraced house before making their way upstairs.
With visibility down to just 6in (15cm) Mr Enright said he thought he heard the sound of a young child crying - only to backtrack and discover it was a cat.
Mr Enright was the first firefighter on the scene in Chatham Hill on 10 September 2011.
"We made our way upstairs to the landing at which point we needed more water," he said.
"I felt a door to my right and most of the panelling on it had gone.
"I removed some of the debris at the base of the door and opened it and started a search of the bathroom. The bathroom window had completely gone.
"Visibility was quite good in the beginning because of the light of the fire but as you add water you get a lot of smoke and visibility came down to six or seven inches."
The bodies of Ms Crook and Noah were found later in a bedroom. Her father tried to escape through a window but he was engulfed in flames after becoming stuck.
He died six days later in hospital.
Ms Crook's mother Amanda and brother Bohdan escaped by jumping through windows.
Mr Muhammadi, of Britannia Street, Coventry, Ms Smith, of Barley Lea, Stoke Aldermoor, Coventry and Mr Mahmud, of Fernhill Road, Maidstone, also deny two counts of attempted murder each in relation to Amanda and Bohdan Crook.
The prosecution has claimed petrol was squirted through the letterbox of the house using a garden spray container before a fire was started at the base of the stairs.
The three-litre garden spray container was found in the bathroom of Mr Mahmud's home, and tested positive for petrol vapour, forensic scientist Roderick Stewart told the court.
Mr Stewart told the court it was clear the fire was set deliberately.
The spray container was shown to the jury and Mr Stewart said it was capable of expelling liquid at a distance of more than 33 ft (10m).
He added petrol had not been poured in through the letterbox but introduced further into the house.
The trial continues.