How Dartford six-year-old copes with rare skin condition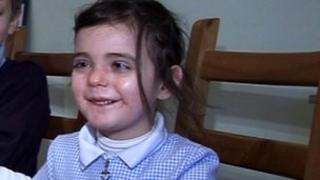 A six-year-old girl from Kent has a skin condition so serious, every knock or bump results in her skin blistering or completely shearing off.
Ciara Paczensky, from Dartford, suffers from the genetic condition Epidermolysis Bullosa (EB).
She has to wear bandages to protect her from even the slightest contact.
Her father Grant Paczensky said: "It affects one in 17,000 children and is quite restricting on the things that Ciara can do.
Very rare condition
"It limits her ability to interact with everyone else because you have to be careful of bumps, knocks, bruises, the slightest touch can basically shear her skin off.
"If you can imagine the most painful blister you have ever had, multiply the pain by 10 and increase the size [of] the blister to the size of a tennis ball, then you are some way to understanding what Ciara goes through on a daily basis."
According to the NHS, EB is a very rare genetic condition and it is estimated that currently 5,000 people in the UK are living with it.
Both Ciara's parents carried the gene responsible for EB but had no symptoms and were unaware of the condition.
They have since been told that there is more chance of winning the lottery than two carriers meeting and having a child with the condition.
Currently there is no cure for EB, according to the NHS, so treatment aims to relieve the symptoms and prevent complications developing, such as the blisters becoming infected.
The family get help from local charity chYps and a nurse visits Ciara daily to help change her bandages.
Despite her condition, Ciara's parents say she is determined to live as normal a life as possible.
Maggie Paczensky, Ciara's mother, said: "I don't think there is an 'I can't' in Ciara's vocabulary - she will just try anything."