Hundreds hope to join Tunbridge Wells free school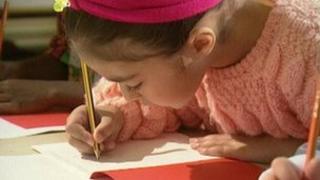 More than 200 people have expressed an interest in sending their children to a planned free school in Kent.
If it opens in September 2013, The Wells Free School will take 66 pupils in its first year to make up a reception, a year one and a year two.
Spokeswoman Jude O'Connor said the team wanted to offer another choice for parents who were concerned mainstream schools were getting too big.
Figures last week showed 818 pupils did not get into their chosen Kent schools.
Out of those, 87 were in Tunbridge Wells, Kent County Council (KCC) statistics showed.
Parents accused KCC of failing to plan for demand, but KCC said 95% of children had been offered a place at one of their choices.
Ms O'Connor, one of the free school founder members, a parent and a primary teacher, said: "We want to offer something different.
"Parents are very concerned about what's happening at the moment. Classes are being stretched to a maximum.
"Schools are getting much larger and it's not right for children at that age, so we are giving parents another choice.
Class sizes at the school have been limited to 22 pupils.
'Middle-class criticisms'
Ms O'Connor said: "Out of the 200 who have expressed interest, there is a big spread of [children's] ages, but we could fill up reception twice over for the next four years and also fill year one and year two."
She added: "People are thinking about leaving the normal system, including some parents who didn't get their chosen schools, and who have had to go privately, or who are home-educating their children."
She said even though the school had proved "enormously popular", organisers still wanted more interested parents to come forward.
"There is a lot of criticism that these schools are aimed at middle-class children. That is absolutely not what we want, we are open to all children," she said.
Ms O'Connor said searching for a site for the new school had proved to be the "toughest challenge".
Organisers had identified three possible sites, but would not reveal locations until they knew for sure, she said.
They are still hoping there might be a chance to base the school at the old Kent and Sussex Hospital site - recently bought by Berkeley Homes for a mixed-use development.
'Creative curriculum'
The team have been invited by the Department for Education to an interview on 30 May, which has brought them one step closer to reality, Ms O'Connor said.
The school is set to offer a topic-based creative curriculum where children would study a range of subjects while focusing on a theme such as the Olympics. Maths and English would be taught in separate lessons.
Ms O'Connor said the focus would be on getting to know the children as individuals and helping them grow.
The founders include a retired deputy head teacher, two primary school teachers, a chartered accountant and a property surveyor - three have young children.
The team will find out if they have been successful in July or August and would then have one year to open a primary school.
Organisers have said the school would be part of the Kent County Council admissions process, and parents would need to name it as their preferred school to apply for a place.
Priority would be given to pupils living closest to the school.