Benefits blamed for Canterbury firm's no-show recruits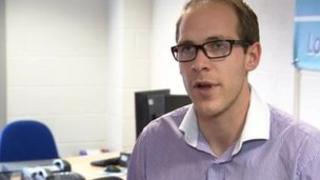 A Kent company has blamed the benefits system for its inability to recruit new staff, despite the UK economy having entered a double-dip recession.
CarSmart said it had recruited seven people for a day's paid work on Wednesday but not one turned up.
On Thursday only one out of three potential staff recruited through the Directgov website showed up for work.
A DWP spokesman said welfare reforms were taking place to encourage people to take posts that paid minimum wage.
The seven no-shows were due to start at the firm, based in Hersden near Canterbury, on the day the UK's first double dip recession since the 1970s was officially announced by the Office for National Statistics (ONS).
Last week the ONS announced a UK unemployment figure of 2.65 million for the December-to-February period.
'Better on dole'
CarSmart, which provides online marketing and advertising for car dealers, said it had rented extra office space to expand the business but it was a "complete waste".
The telesales recruits were offered a retainer of £100 per week. Commission would take earnings up to a potential £350.
Bosses rang the no-show recruits to ask for an explanation.
"I spoke to one girl who said her dad told her it wasn't economically viable to come to work and that she would be better off on the dole, which left me flabbergasted," said director Stefan Black.
Sales director Carl Cooper said: "We were quite offended.
"These were people we had spoken to and arranged these positions directly with.
"The general feedback was that the initial pay we were offering was equivalent to what they could take home from the jobseeker's allowance payments that all seven are currently receiving."
Kent Federation of Small Businesses said this was not an isolated case.
"It is a question of attitude," said spokesman Andrew Aves.
Conservative MP for Canterbury and Whitstable, Julian Brazier, said changes had to be made to some people's work ethic.
"To do this we have got make some very painful decisions on benefits and we are in the process of introducing a whole range of changes," he said.