Kent 11-plus 'unfair advantage' for private pupils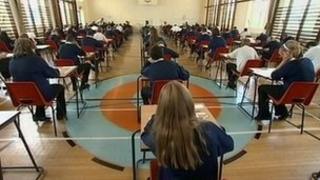 Kent County Council is to review its 11-plus test after figures showed 10% of offers at state grammar schools went to pupils from private primaries.
A total of 489 children from more than 80 fee-paying schools were offered places for September 2012.
But fewer than 6% of children under 11 in Kent are privately educated.
The Tory council said the review would look at whether parents were gaining an unfair advantage by using tutors to coach children to pass the 11-plus.
"We have always had a very vibrant independent sector in Kent and children from those schools get equal access to the state run and academy secondary schools," said Councillor Mike Whiting, Conservative cabinet member for education.
"It is no surprise to me at all that large numbers of independent children do well and go on to our good state secondary schools.
"With a number of questions around the whole test issue I want it to be as fair as possible for all members of society and to take out any advantage that some people feel they may be able to give their child by throwing money at it."
At some state grammar schools one third or more offers of places are going to pupils from fee-paying prep schools.
Tonbridge Grammar School offered 41% of its places to pupils from private schools, while The Judd School, also in Tonbridge, offered 35%.
"Life is not fair," said James Marjoribanks head teacher of Holmewood House prep school in Langton Green.
"I think if you have a system, as we do in Kent, with selection, parents have the choice to do what they can for their children.
"Some parents are fortunate to be able to pay for private school education and pay for coaching. Others are not so fortunate.
"Maybe it is the system that is not fair."