Medway Queen renovation resumes after funding restored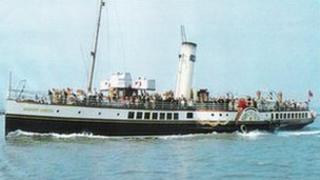 Funding has been restored for the renovation of a paddle steamer that rescued Allied troops during the Dunkirk evacuations.
Work on the Medway Queen began last year with the help of money from the lottery and the European Union.
The government said administrative errors had led to the suspension of the EU funding in April.
Antoine Porteneuve, from the project, said the European Commission had now decided to release the funds.
He said it was "a great relief for everybody".
The Medway Queen took more than 7,000 trapped men from beaches in 1940.
Jobs under threat
Restoration work on the ship's hull began in Bristol last year with money from a £1.86m Heritage Lottery Grant.
Medway Council applied to the European Regional Development Fund for a grant to complete the restoration and bring the ship home.
But the final stage of the project, which is being carried out at a workshop in Gillingham, was suspended when the funds were held back.
Sixteen jobs were under threat, including those of nine young apprentices.
Mr Porteneuve said: "Now that we have received the money we can start again with all the work which we had to put on hold.
"The Medway Queen is still in Bristol but we hope to have it back in Medway some time this summer hopefully."