Bee-collection team has meetings in Sweden over 'misunderstanding'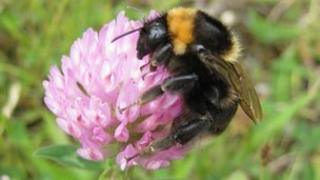 UK conservationists are extending their bumblebee collection trip to Sweden to meet locals and resolve a "misunderstanding" of the project.
Up to 100 short-haired bumblebee queens are being gathered in the Skåne province for release in Kent.
There was concern that the scheme could make the bombus subterraneus species extinct in Sweden.
The RSPB, one of the organisers of the scheme, said a "breakdown in communication" had caused the concern.
'Not aware'
The queen bees are being collected in Sweden to re-introduce a short-haired bumblebee species in Great Britain.
It was last recorded in the UK in 1988 near Dungeness, Kent, and declared extinct in Britain in 2000.
Peter Håkansson and Bengt Ljungquist contacted the BBC to say the scheme would cause the bumblebee species to become extinct in Sweden.
A spokesman for the RSPB said: "There appears to have been a breakdown in communication and the environmental director of the County Administrative Board of Skåne was not aware of the project.
"She has since said publicly that her department did have all the relevant information, unfortunately by this time the misunderstanding had been widely reported."
The conservationists are extending their trip to meet local people in Skåne on Thursday to explain the collection of the queen bees.
'Outstanding issues'
Ann-Nina Finne, from Skåne Administrative Board, said: "The project has been approved by various Swedish government agencies, but none of them have done an assessment of the ecological consequences of collecting bumblebee queens in Skåne county.
"During the meeting we will hopefully solve these outstanding issues."
The RSPB said the scheme had been discussed and approved by the Swedish Board of Agriculture (Jordbruksverket), the Environmental Protection Agency (Naturvårdsverket), the Swedish Threatened Species Unit, County Administrative Board of Skane (Länsstyrelsen) as well as the local honey-bee inspector and local vets.
Collected bees are due to be released near Dungeness at the end of May.