Herne Bay palm trees could bring 'Mediterranean' to Kent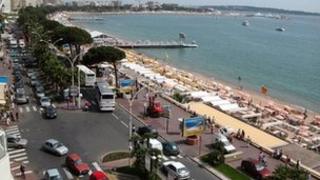 An east Kent town could be given a "Mediterranean makeover" with palm trees lined along the seafront.
Businesses in Herne Bay hope importing up to 40 palms from Italy could attract more tourists and boost the economy.
The team behind the £20,000 plan have modelled it on a scheme that took place in Barmouth, Wales, in 2008.
Gerald McCarthy, who came up with the idea, said it was hoped the palm tree project could be paid for with commercial and private funding.
Before the scheme can go ahead, the proposals need the approval of both the Highways Agency and Canterbury City Council.
'Feel-good factor'
Mr McCarthy said: "Having lived in Herne Bay all my life, I've often thought the seafront would look lovely with lots of palm trees on it."
Mr McCarthy said up to 40 palm trees would be kept in pots
He said: "We don't think the council would agree to digging up the promenade and putting in 20ft palm trees, so for the first two or three years we would like to put them in pots and keep them safe from the northerly and easterly winds that can batter the coast."
Businesses in the town had already offered to help with the project, which could see the trees in place by the summer, he added.
He said the project in Barmouth had helped to market the town as well as give the area "a feel-good factor".
"In the summer for example, Herne Bay is thriving. There are boats and jet skis everywhere. If we can have this little touch of the Med there, it will hopefully bring visitors and boost business," he added.
He said: "When people google Herne Bay, we want them to see it's already been dubbed Hernebados, like Barbados, and we are quite happy with that label."
In the Barmouth project, organisers imported 13ft (4m) 60 palm trees from Italy at a cost of £500 each, all paid for by businesses and individuals.
Two of the Cordyline Australis palm trees were brought to the town during the autumn beforehand to make sure they could survive the Welsh winter.