Timpson's at Blantyre House praised by Kenneth Clarke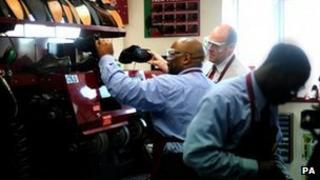 A training academy where prisoners cut keys and serve the public has been praised by the justice secretary as an example for the prison system.
Kenneth Clarke said Timpson's Academy, at Blantyre House prison in Goudhurst, Kent, was bringing offenders "ever closer to the real world of work".
The former workshop is housed in an old farm building outside the Category C resettlement prison.
About 40 offenders applied for 12 places at the academy.
Mr Clarke said it was a "positive, sensible way of combining punishment with rehabilitation".
The Timpson workshops started in Liverpool four years ago but the Kent operation is the first where prisoners serve members of the public who visit to get keys cut, clothes dry-cleaned and shoes repaired.
Two staff members work with up to 12 offenders from prisons in Kent, teaching a range of skills, from how to repair shoes and watches to how to cut keys.
Chief Executive James Timpson said he did not accept sex offenders or prisoners with mental health issues and all offenders were risk-assessed first.
"I want my shops filled with the best people who are brilliant at serving customers," he said.
"When they've done their sentence they're going to get a job and have support. We treat them like anyone else: if they mess up they're out."
The firm's chairman John Timpson said one in 20 of its staff had left prison in the past three years, making the company one of the biggest employers of ex-offenders in the country.
He said the initiative had been "amazingly successful", with just seven of more than 200 offenders employed by Timpson ending up back in jail, compared with a national reoffending rate of about two-thirds.
"We would like to see other businesses doing what we're doing," he said.
Dennis Phillips, the academy's welfare manager, said all prisoners eligible for paid work received the minimum wage, with bonuses, while others received the weekly prison wage.
"We're not after cheap labour," he said. "It's about hard employment, that's what we're focused on."
One prisoner, serving a life sentence at East Sutton Park women's prison for causing grievous bodily harm, said the scheme had given her hope.
Lisa, 36, said the academy was "more of a career than a short-term job fix".
"I didn't originally think anyone would give me that opportunity. It's given me hope that it will keep me out of prison."