Kent road birth defects 'within normal range'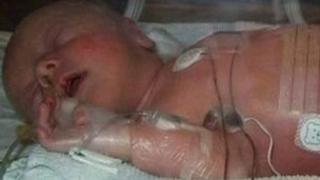 An investigation launched after five babies in the same Kent street were born with the same defect has found the number to be "within normal levels".
The babies all have gastroschisis, a condition where part of the bowel protrudes through the abdomen.
Their mothers all lived in Waterdales, Northfleet, when they became pregnant.
Their concerns that this was a cluster and was caused by something in the local environment were investigated by Kent's Director of Public Health.
In the report, Meradin Peachey said the rate of gastroschisis in Gravesend between 1996 and 20011 was close to the average for the county as a whole.
"The statistical analysis of the rates show that this is what we would expect to see due to gastroschisis being a relatively rare condition," the report said.
'No specific risks'
The mothers had raised concerns about a nearby disused landfill site, and investigators compared rates of the condition near the site and those further away.
Although it was found that rates immediately around Waterdales were than higher than those for Kent, according to the report: "The difference is not statistically significant, which means it is within normal levels of variation."
The report concluded that no public health actions needed to be taken and there were no specific risks to women in the area who are pregnant.
Sonia Dalton's three-year-old daughter was born with the condition.
She said: "The report is going to be reviewed to check that the statistical data and the methods that they used were correct.
"They are also going to be looking at what was in the landfill in more detail."
Ms Dalton said: "We don't feel it was the end of the investigation. We do still believe there is a cause."
Gastroschisis occurs in approximately one in 7,000 births. A hole develops in the baby's abdominal wall while inside the womb, and part of the bowel escapes through it and continues to develop externally.
The condition is treated by surgery after birth.
Experts still do not know the cause, although some researchers believe the risks might increase if the mother smokes during pregnancy.