Lydden Hill Race Circuit spectators 'need screens'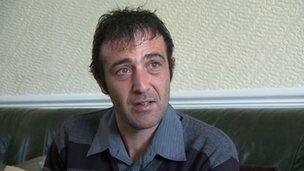 The father of a Kent boy whose skull was fractured when he was hit by debris from a racetrack has said spectators should be protected by screens.
Bobby Harris, seven, from Ramsgate was in the crowd at Lydden Hill Race Circuit on 6 May when he was hit on the head by stones as a car went past.
Danny Harris said his son was making "slow progress" in hospital.
The circuit's operators said they believed the injury to Bobby was a freak accident.
Mr Harris said: "For a parent it's just nerve-racking. I feel the pain of parents who've lost their kids. It's so lucky our son's still here.
"There should be a screen or barriers near the edge."
Mr Harris said Bobby went to watch events at Lydden Hill Race Circuit with his mother and her partner.
"Apparently a car was drifting around the corner of the racetrack... and loads of debris flew up. Stones hit him on the top of the head, fractured his skull," said Mr Harris.
The operators of Lydden Hill Race Circuit said the event on Sunday, 6 May was conducted in accordance within all rules and regulations.
They said they had opened their own investigation into what happened and they believed it was a freak accident.
Related Internet Links
The BBC is not responsible for the content of external sites.