Crowds gather for HMS Ocelot's 50th anniversary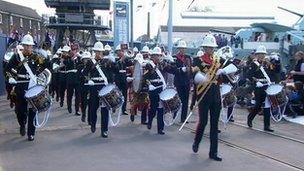 Hundreds of people gathered in Chatham to mark the 50th anniversary of the last Royal Navy vessel built in Kent.
A day of events was held at Chatham Historic Dockyard on Saturday to celebrate the anniversary.
HM Submarine Ocelot was launched in 1962, marking the end of more than 400 years of ship building at the dockyard in Chatham.
Retired and serving submariners and former dockyard workers were among those who attended the event.
Admiral Sir Trevor Soar KCB OBE, who was captain of HMS Ocelot from 1987 to 1990, said: "Life on board didn't have the luxuries of showers.
"You had hot bunking where you shared your bunk with other people so it really brought out the ethos of the submarine services which is a close-knit community."
A service at the Royal Dockyard Church for HMS Ocelot and all those who served on it was followed by a parade led by Her Majesty's Royal Marines from Lympstone.
Retired able seaman Don Church said: "You get a great feeling, you see a load of your old comrades."
Former petty officer Bill Gibson said: "It brings back many happy memories. Chatham, Gillingham, all the areas round here we enjoyed."
HMS Ocelot was decommissioned in 1991 and is now in dry dock at Chatham.
It was one of six Oberon Class submarines built at the dockyard.
HMS Ocelot, Onslaught and Oberon were built for the Royal Navy. The other three were built for the Royal Canadian Navy.
The Oberon Class were all diesel electric boats which were capable of high underwater speeds of up to 17 knots (20 mph) when submerged.