Dover launch of replica Bronze Age boat aborted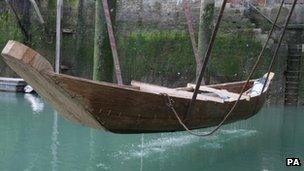 The maiden voyage of a replica Bronze Age boat made in Kent had to be aborted when it failed to stay afloat.
The vessel, which is called Boat 1550 BC, immediately began to take on water when it was lowered into Dover Harbour.
The boat is half the size of an original Bronze Age boat which was unearthed in Dover in 1992.
A Canterbury Christ Church University spokeswoman said: "It didn't go to plan so we had a bit of a naming ceremony instead."
The spokeswoman added: "They had the boat carefully placed in a crane hammock but it filled up straight away."
No-one was in the boat during its launch.
A team of specialist archaeologists spent more than three months building the vessel on the Roman Lawns at Dover Museum.
The university's spokeswoman said: "They are going to patch it up and try to do this again.
"It's a bit disappointing for them but they were so behind schedule they could not do their test run."
Boat 1550 BC is the first stage of a three-year programme of events which Canterbury Christ Church University is helping to co-ordinate.
The replica boat will form the centrepiece of a multilingual exhibition which opens in Boulogne-sur-Mer on 30 June. In December the boat moves to Belgium and returns to Dover in July 2013.
The original 3,500-year-old boat was excavated by the Canterbury Archaeological Trust near to the museum in 1992.
The project is supported by the European Union and brings together seven partners from Britain, France and Belgium.
Related Internet Links
The BBC is not responsible for the content of external sites.