Man jailed for 14 years for Tom Crittenden manslaughter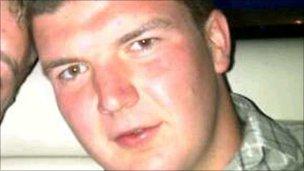 A man has been jailed for 14 years after stabbing a 21-year-old man to death with a kitchen knife in Kent.
Caleb White, 20, of Cornwall Close, Maidstone was sent to prison after being convicted of manslaughter at Maidstone Crown Court.
The court heard he killed Tom Crittenden on 25 September last year. He was found by paramedics at a house in Sutton Road, Maidstone.
Kent Police said Mr Crittenden's life was "needlessly cut short".
During the trial, the court was told White attacked Mr Crittenden, who were not known to each other, during an incident involving mutual friends.
Det Ch Insp Andrea Bishop said: "The defendant had wound himself up - with feelings of jealousy and anger - so that he totally lost control and stabbed Tom Crittenden, tragically killing him.
"As a result, the life of a young man, who had everything to live for, has been needlessly cut short.
"There can be no excuse for using a knife to kill or injure and the length of the sentence imposed [on Friday] reflects how seriously knife crime is taken."
Related Internet Links
The BBC is not responsible for the content of external sites.