Paul Carter denies Kent County Council mix-up wrongdoing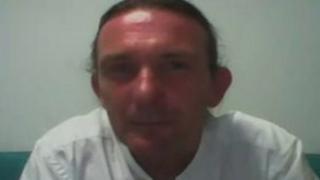 A man paid £20,000 by mistake because he has the same name as a council leader has denied he was wrong to leave the UK without repaying the money.
Kent County Council paid allowances intended for council leader Paul Carter to a vehicle maintenance fitter with the same name.
The council said it only recovered £769 of the £21,398 and could not trace him.
But Mr Carter, who now works in north-west China, said he "certainly did not" run off with taxpayers' money.
Mr Carter, who was based at the Aylesford depot, was paid the money between September 2007 and March 2008.
'Not running away'
The council said the mistake arose when a member of staff inadvertently entered a change of bank details from the council leader on to his namesake's record.
It was discovered in April 2008 when the council leader's secretary in his private office noticed that his overdraft was near its limit.
The maintenance fitter said: "Somebody from the offices at Kings Hill called me and told me they had overpaid me by £20,000 and would I mind paying it back to them.
"I said of course, but when I got home I checked my bank account and I couldn't see any overpayment in there at all.
"It seems that they had been overpaying me from the very first day that I started there so of course I didn't notice any discrepancy whatsoever."
He said the council had his address in Tunbridge Wells, where he lived for over a year after the problem was discovered, and the council had refused to take up his offer of settling the dispute in the county court.
He added: "I am certainly not running away from anything. This (China) is just where my work has taken me."
Amanda Beer, the council's director of human resources, said: "We would welcome any chance to talk to Paul Carter, no matter where he is in the world.
"We would also be particularly pleased to discuss the reimbursement of £20,000 to Kent's taxpayers."