Environmental group slams Kent nuclear waste bunker proposal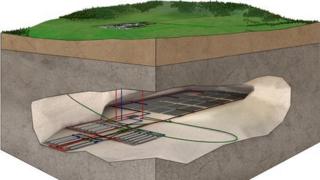 A proposal to build a nuclear waste bunker in Kent has been criticised by an environmental group.
Shepway District Council is considering whether a nuclear disposal facility, where waste is buried underground, could be built at Romney Marsh.
Protect Kent have reacted strongly to the proposal saying it must be "quashed at the outset".
The council said it has "no formal view" about the proposal.
The Romney Marsh Nuclear Research and Disposal Facility would be buried 200m (656ft) to 1,000m (3,280ft) below ground.
'Waste of money'
According to the council, when Dungeness A and B are fully decommissioned in either 2018 or 2023, the area will lose 1,000 jobs and an estimated £46m a year from the local economy.
It believes the scheme could bring skilled employment for hundreds of people "over many decades".
Kent County Council has already signalled its opposition to the idea, saying it would push for a county-wide referendum.
Andrew Ogden, from Protect Kent, local branch of the Campaign to Protect Rural England, said the proposal was "unfeasible".
"This is an ill-considered idea that must be quashed at the outset," he said.
"Perhaps more significantly, it is a proposal that is so unfeasible and so unlikely to be given any credence by the government. Shepway District Council are wasting time, energy and money in trying to pursue it."
'No formal view'
A spokesman for Shepway District Council said Protect Kent's views would be considered when it determines whether to move the process forward.
"The council does not have a formal view about whether the Marsh should host a Nuclear Research and Disposal Facility," he said.
"Our only view is that local people should be given the opportunity to decide for themselves if it is worth discussing the idea further."
Shepway District Council will hold a series of public exhibitions over the next three weeks detailing the proposals.