Vote against Manston Airport night flights plan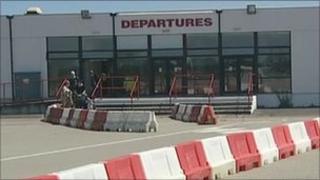 Plans for night flights from Manston Airport in Kent have been opposed by Thanet District Council.
At a meeting on Thursday, the Labour-controlled council voted against all night flights to or from the airport.
Charles Buchanan, the airport's chief executive, said: "We are disappointed the council is not supporting the airport as much as it could."
In March, owners Infratil announced plans to sell Manston and Glasgow's Prestwick Airport.
Mr Buchanan said the airport wanted to run "a small number" of scheduled night flights.
He said the owners had received legal advice that two flights per night, on average, did not constitute "an increase in activity over and above that which is already permitted", and they could go ahead without needing extra planning permission.
Mr Buchanan said a number of companies were interested in taking up the opportunity.
"They would also bring the rest of their daytime schedule to the airport as well," he said.
"Without that they'll go to airports where they have that flexibility."
Council research showed that 73% of some 2,000 residents questioned were against the proposal, citing potential noise levels and disturbance to sleep as their primary reasons for objecting.
The airport currently deals with passenger and commercial aircraft with a runway capable of taking Boeing 747s and Airbus A380s.
Its refurbished terminal is capable of handling up to 700,000 passengers a year.