Tracey Emin 'nervous' as new exhibition opens in Margate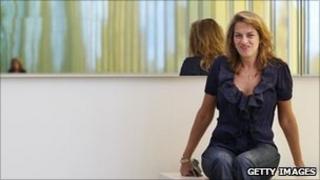 A new solo exhibition by the artist Tracey Emin exploring love, sensuality and romanticism has opened in the Kent seaside town where she grew up.
She Lay Down Deep Beneath The Sea is at Margate's Turner Contemporary until 23 September and includes sculptures, drawings, tapestries and embroideries.
Most of the artwork has been produced by Emin in the past eight months.
She will also carry the Olympic torch through the town on 19 July, and will pause briefly outside the £17m gallery.
'Sign of maturity'
Emin opened the Turner Contemporary just over a year ago, and said she was "excited and nervous" about the exhibition "as I want people to like my work and like my show".
The 48-year-old artist said she was now "more at ease" with herself and what she could do.
"I feel like I'm growing into my work more, I'm enjoying it and understanding it.
"I'm nearly 50, and I'm making things that I really want to see, so that's a sign of maturity."
The exhibition is part of the London 2012 Festival , a 12-week nationwide celebration of arts events running parallel to the Olympics.
Ruth Mackenzie, director of the Cultural Olympiad and London 2012 Festival, said: "We want this to be a summer of unforgettable art as well as sport."