Falklands veteran 'paramotors' from Scotland to Dover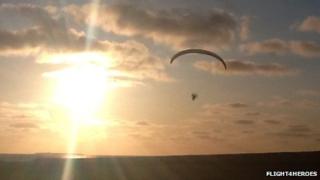 A Falklands War veteran from Kent has completed a flight from Scotland to Dover by powered parachute.
Ex-paratrooper Colin Rees, 48, from Whitstable, took off from John O'Groats in his paramotor - a parachute with powered seat underneath - on 18 May.
He completed the 850-mile (1,368km) journey in 10 days, landing at the Duke of York's Royal Military School.
His arrival in Dover marks 30 years since the Goose Green landings during the Falklands War.
He said: "It feels very poignant to land here on this anniversary when my thoughts are with my colleagues who were with me at Goose Green.
'Hair-raising experience'
Mr Rees's flight path took him along the east coast of the UK, stopping several times a day to refuel or camp for the night.
With a parachute and a small engine fan strapped to his back, Mr Rees reached heights of about 5,000ft (1,524m).
He encountered gale force winds, fog, rain, an engine failure while flying over water and survived a crash landing.
He said: "We were told by experts that this feat was impossible given our lack of experience flying a paramotor, so it feels great to prove them wrong.
"It has been an exhilarating and hair-raising experience and we have endured adverse weather, engine failure and injury.
"But it is nothing compared to the what our troops experience every day."
Mr Rees's paramotor flight was in aid of Help for Heroes and so far more than £70,000 has been raised.