South Foreland Lighthouse is 'brightest' Jubilee Beacon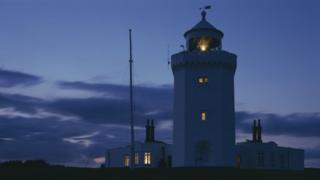 A lighthouse, which used to warn ships away from a treacherous stretch of the Kent coast, has been lit for the first time in more than 20 years to celebrate the Queen's 60-year reign.
The South Foreland Lighthouse represented St Margarets-at-Cliffe in the chain of more than 4,000 Diamond Jubilee Beacons which were lit on Monday.
The National Trust, which owns the lighthouse, said it was the largest and the brightest of the beacons, with its beam able to reach almost 40 miles.
John Barker, who helps manage the lighthouse and suggested it be turned back on for the Jubilee, said: "It's remembered quite fondly by mariners. It's not that big but it's on 300ft (91.4m) cliffs so it was the highest light in England and Wales.
Historical importance
"It has an important history, it was the first electric lighthouse, Faraday came here and Marconi came here."
The National Trust said records showed a light was first installed at South Foreland in 1367.
It warned ships of the Goodwin Sands, notorious large sandbanks off the east Kent coast known as the "great ship swallower".
Mr Barker said: "It was a really treacherous stretch of water, there are about 1,500 wrecks on the Goodwin Sands."
He said during low tide ships could run aground on the sandbanks which would then turn to quicksand in the rising tide, sucking in the stricken vessels.
The current building was erected by Trinity House in 1843 and was originally one of a pair at the location, both showing a static light.
Victorian mechanism
The lower light was decommissioned 61 years later and the upper light was converted to a rotating optic or flashing light.
The original Victorian clockwork mechanism remains at the lighthouse and will be wound by hand every hour during the night of the Diamond Jubilee Beacons.
Mr Barker said when GPS became a legal requirement for ships the lighthouse became defunct.
It was active for the first time since 1988 from 10:01 BST on Monday until 07:00 BST on Tuesday.
Local residents were issued tickets to visit the lighthouse while it is part of the Jubilee Beacons event.
A warning message was sent out by the coastguard to all shipping in the area to ignore the South Foreland Lighthouse while it was alight for the Diamond Jubilee.
See all the latest Diamond Jubilee news and features at bbc.co.uk/diamondjubilee