Family of Reunion death man Carl Davies appoint lawyer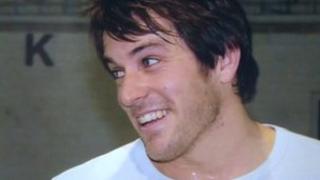 The family of a teacher believed to have been murdered on an Indian Ocean island have hired their own lawyer to try to get answers about his death.
Former Royal Marine Carl Davies, 33, from Harrietsham in Kent, was found at the bottom of a ravine in French-governed Reunion Island on 9 November.
It was initially believed to have been an accident but a murder investigation was started 10 days later.
The authorities on Reunion have said they are determined to find the truth.
Tests revealed Mr Davies had been beaten and possibly sexually assaulted.
Earlier this month, his parents Andrew and Maria made a TV appeal to the people of Reunion for information about their son's death and offered a £10,000 reward.
'Stolen from me'
The lawyer acting for them will be based in Paris.
Mrs Davies said the family would fight to find the answers to what happened to Carl, who was intending to work in security on Reunion.
"I just adored him so much," she said. "He was my baby boy and someone has stolen him from me."
"I just want to know what has happened to him. We have got to fight the fight."
Kent Police has appointed a family liaison officer to work with Mr and Mrs Davies.
"We have formed a very good working relationship with the French authorities," said Det Insp Gavin Moss.
"Where possible we have been able to suggest certain things that they might wish to consider.
"But I cannot contact them and say you will do this or you will do that because I haven't got the power to do that."
A day of fundraising is being held on Monday at the Plough Inn, near Teynham, to help the family pay their legal bills.