Sat-nav warning signs at Chatham bus station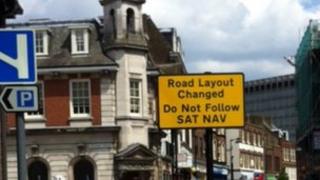 Signs warning motorists not to believe their sat-navs have been put up to try to stop the 90 vehicles a day driving through a Kent bus station.
The building of Chatham's new bus station involved changing the road layout in the town centre.
Motorists are using it as a shortcut, Medway Council said.
Robin Cooper, from the council, said: "We are asking people to please look out of the window when they are driving instead of listening to their sat-nav."
"These can quite often be out of date or even wrong.
"We have already ringed the bus station with 15 signs and other road markings asking motorists not to drive through it
"We have also put in place automatic number plate recognition cameras to catch those that do."