Antoine Anicotte jailed for shooting Nicholas Culpan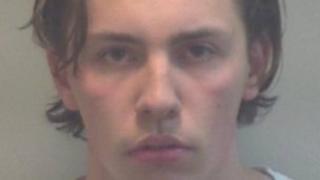 A 19-year-old man has been jailed for four years after pleading guilty to shooting a friend in the chest in Kent.
Antoine Anicotte, of Salisbury Road, Dover, admitted causing grievous bodily harm with intent and attempting to pervert the course of justice.
The shooting, in the Frith Road area, happened near Dover Grammar School for Girls on 16 January.
The victim, Nicholas Culpan, then 18, needed life-saving surgery following the single gunshot wound.
He had been left with permanent mental and physical scarring, Canterbury Crown Court was told.
Collapsed in street
The court heard that Anicotte had a morbid interest in weaponry and had been "fooling around" in his flat with a replica American Civil War revolver when he fired the gun.
The jury was told Anicotte had no intention of shooting his friend but fired the weapon accidentally. The judge described Anicotte's actions as "reckless".
Mr Culpan ran out into the street and collapsed.
The court also heard Anicotte told police the pair had been walking along the road when Mr Culpan was shot by an unknown third party.
It led to armed officers being called and a search of the area being carried out by a police helicopter.
Judge James told Anicotte the shooting was a "monumentally and criminally stupid act" and that he told "a series of calculated and wicked lies about what happened".
"You have a number of unusual personality traits which provide considerable cause for concern," he said.