Swinging cat by tail trial is dismissed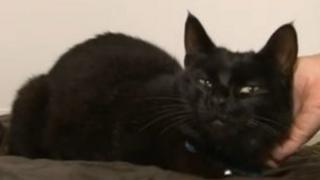 The trial of a man accused of swinging a cat by its tail in Kent has been dismissed through lack of evidence.
Riain Richards, 20, of Clements Road, Ramsgate, had denied causing unnecessary suffering to a cat in the town, on 29 October last year.
CCTV released by the RSPCA showed the black cat being swung at arm's length outside the Camden Arms pub.
Mr Richards' defence lawyer said there was no evidence to identify his client as the attacker and no case to answer.
Before the case was dismissed, Canterbury Magistrates' Court was told the cat would have been physically and mentally traumatised having been forcefully swung round.
'Saddened and sickened'
However, the two-year-old cat, called Mowgli, had not been injured.
Magistrate Gillian Monk said: "Cruelty of any description is abhorrent to civilised society and we are saddened and sickened by the way that the cat was tortured that morning."
However, she said there was no case to answer having considered the evidence present and submissions by both sides.
"The CCTV and photographic evidence presented is of such poor quality that it is hard to identify any distinguishing features," Ms Monk said.
"No forensic evidence was found at Mr Richards' home or on his computer.
"Nothing we have seen or heard has securely placed his hands on that cat."
Following the trial, Caroline Doe from the RSPCA said: "Crucial evidence came from a witness who failed to turn up.
"We put a lot of hard work into the case but we will not be looking to pursue anyone else in connection with it."
Mr Richards has not commented.