Husband and friend guilty of Chatham family arson murders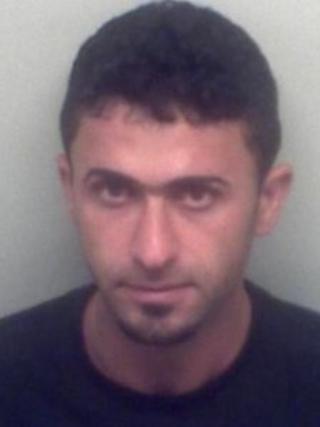 A man has been found guilty of murdering his son, estranged wife and her father in a fire in Kent.
Danai Muhammadi, from Coventry, and his friend, Farhad Mahmud, of Maidstone, were both convicted of three counts of murder at Maidstone Crown Court.
Melissa Crook, 20, and the couple's baby son, Noah, died in the fire in Chatham. Her father, Mark, died later.
Muhammadi's girlfriend Emma Smith, also from Coventry, was cleared of murder but convicted of manslaughter.
Following the verdict Amanda Crook, wife of Mark and mother of Melissa, said: "The verdict today is not a cause for celebration for us, the family, but we are relieved that we have at least received justice.
"The evil people convicted today are now deprived of their liberty, and justly so.
"However no sentence they received could bring back the loved ones they took from us."
'Life behind bars'
During the six-week trial, the court was told used-car salesman Muhammadi, 24, was filled with "spite, anger and resentment" when he and Mahmud, 35, squirted petrol through the letter box using a garden spray container.
The jury was told the location of the fire, at the bottom of the stairs, left no reasonable means of escape for Ms Crook, her mother Amanda, brother Bohdan, father Mark and her 15-month-old son Noah.
The judge, Mr Justice Sweeney, said the pair faced life behind bars.
He told the jury: "There can be very few criminal cases which are as taxing for a jury than this one must have been.
"I don't suppose any of us are going to forget some aspects of the evidence we have heard about the fire."
The jury also found Muhammadi and Mahmud guilty of two counts of attempted murder of the fire survivors Amanda and Bohdan Crook.
Smith was cleared of both attempted murder charges.
A date for sentencing was provisionally set for the first week in July, the judge said.
'Driven by jealously'
Prosecutors described the arson as a well planned and "wicked attack" following the breakdown of the relationship between Muhammadi and Ms Crook.
The court was told she decided to return to her parents' home in Chatham after Muhammadi slapped her face because she refused to have sex with him one night.
Det Ch Insp David Chewter said: 'This was one of the most tragic cases I have dealt with in 24 years of policing and my thoughts are with the Crook family who lost three generations of their close-knit family as a result of the fire which was deliberately set by someone they had welcomed into their family.
"Muhammadi was driven by jealously and, from day one, has denied his involvement in the death of his wife Melissa, young son Noah and father-in-law Mark.
"It is satisfying however that the wealth of evidence against him and his co-defendants was so overwhelming."