Ferry traffic into Dover comes to standstill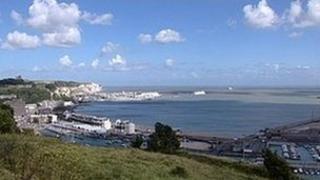 Traffic heading for Dover came to a standstill after eight-mile queues built up as bank holiday travellers headed for the Kent ferry port.
Police urged drivers to avoid the M20 and A20 because of severe congestion between the Roundhill Tunnel at Folkestone and the Eastern Docks.
"We are stationary with the engine turned off," said Emma Digby. "We have gone half a mile in half an hour."
Traffic flowed more freely later, but lorries still faced queues.
Ms Digby said that at the height of the delays, drivers were reversing back up the slip road on to the motorway.
"There was even somebody trying to back a caravan up the slip road," she said.
Fully booked
The Port of Dover said it was experiencing high volumes of traffic and advised passengers without tickets to contact ferry operators before setting out.
P&O Ferries said its services to Calais were fully booked until 12:05 BST on Sunday, while DFDS had very limited availability on Dunkirk and Calais services.
Lisa Kaufman, who was travelling to Paris, said the traffic had been very slow before she got to the ferry terminal.
"It is not a fun way to spend the day if you have got better things to do," she said.