Jubilee pageant recreated in miniature in Goudhurst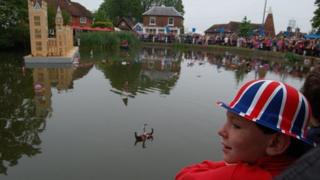 The Queen's Diamond Jubilee Thames Pageant has been recreated in miniature form on a Kent village pond.
School children placed 300 individually decorated boats on the pond in front of a 30ft-long (9m) floating replica of the Houses of Parliament in Goudhurst.
The plywood structure, which includes a 14ft (4.3m) high Big Ben bell tower, was created over a four-week period.
A replica of the Houses of Parliament was floated on the pond to mark the Queen's Coronation in 1953.
'Jubilee superb achievement'
Chairman of the Goudhurst Diamond Jubilee Committee, Richard Hillier, said: "We're British, so we are used to the rain. It doesn't bother us.
"Everyone is going to have a great time and have a bank holiday to remember. We had a fantastic 50s themed night the evening before where everyone had a fantastic time and we continue today."
Steve Fox, 43, who lives in Tunbridge Wells, said: "It's a superb community event. Everyone is in a good mood and has got a smile on their face, and it's nice to see.
"I'm not much of a royalist but I think it's right we mark the jubilee. It's a superb achievement, both for the Queen and for our country. Things wouldn't be same in this country without her."
Peter Hoskins, 56, said: "I've never seen anything like it. It's just so life-like. It's a brilliant bit of work."
See all the latest Diamond Jubilee news and features at bbc.co.uk/diamondjubilee