Thamesteel plant sold to Saudi-based owner's 'new firm'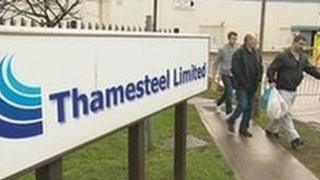 A steelworks on the Isle of Sheppey in Kent has been sold out of administration to a new firm set up by its Saudi-based owners.
More than 350 people lost their jobs when Thamesteel in Sheerness went into administration in January.
Accountancy firm Mazars said it had "been sold out of administration to a new company owned by the Al-Tuwairqi Group (ATG)".
ATG bought the plant in 2002 when its previous owners went into liquidation.
Conservative MP for Sittingbourne and Sheppey, Gordon Henderson, said: "One question that has to be asked, as a member of Parliament I have to ask these questions of course, is if the parent company can now make it profitable why did it call in the administrator in the first place?
"Today is not a day for those questions. Today is [a day] to say if we can secure even only 50 jobs, 60 jobs, 100 jobs then that's good news."
Lead administrator Rod Weston said "This sale is very good news for Sheerness. It concludes what has been a long and painful process for all involved.
"At many points we feared the eventual outcome might be very bleak for the future of steel production on the island.
"However, after several false dawns, we have secured a sale to the only bidder to come forward with the intention of restarting production at the plant."
Michael Leahy, general secretary of the Community Union, said: "This is fantastic news for our members who have been campaigning since the closure in January.
Crisis jargon buster
Use the dropdown for easy-to-understand explanations of key financial terms:
AAA-rating
The best credit rating that can be given to a borrower's debts, indicating that the risk of borrowing defaulting is minuscule.
"We fought a long, hard campaign taking our Save our Steel message right to the heart of government and winning the backing of the local community on the Isle of Sheppey.
"It is a moment for our members to feel proud of their efforts and overcoming the challenges they have faced in recent months before we look forward to a renewed partnership with the new owners so we can bring steelmaking and jobs back to Sheerness."
The sale has also been welcomed by the GMB union.
Paul Maloney, national officer of the GMB, said: "This is one bit of good news in what has been an incredibly gloomy economic situation.
"We will do everything we can to ensure the new operation is a success."