Sewage fear keeps Thanet beaches closed to swimmers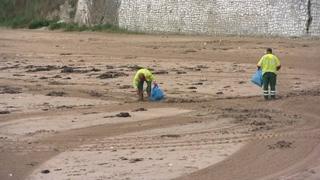 More than 20 Kent bathing beaches are to remain closed to swimmers over the weekend after sewage and waste water was discharged into the sea.
Thanet District Council said red flags would continue to be flown at its beaches, many of which have recently won Blue Flag awards for cleanliness.
Waste water was discharged more than a mile off Foreness Point Pumping Station on Thursday, because of heavy rainfall.
On 30 May sewage first entered the sea from an emergency outfall on the beach.
'Stay out of sea'
In a statement, the council said: "Thanet District Council is working closely with the Environment Agency to monitor water quality tests which will then be used to help determine when it is safe to lift the restriction on bathing in the sea.
"Although initial results have indicated that the situation is improving, a decision to lift the ban on bathing will not be taken until all results to water quality tests carried out this week are revealed."
It continued: "The council will also continue to monitor the coastline to ensure the bays are free from debris and will be seeking assurance from Southern Water that the sewage pumping station is in full working order as part of its decision.
"Although the public are advised to stay out of the sea, and above the high tide line, all beaches and promenades remain open for access and beach concessions are open for business as usual."
The authority said it would review the situation on Monday.
Following the incident on Thursday, Laura Sandys, Conservative MP for South Thanet, said the sewage system was not "fit for purpose" and she would be meeting Southern Water and Thanet District Council.
Southern Water, which is in charge of the pumping station, said the recent waste water was "heavily diluted" with rainwater and was screened for "non-biodegradable" debris.