Stolen Tonbridge Cemetery brass plaques recovered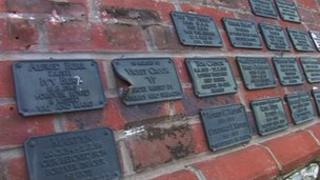 A large number of brass plaques stolen from a remembrance wall at a Kent cemetery have been recovered during a police raid in south London.
About 150 plaques, worth between £80 and £90 each, were taken from Tonbridge Cemetery on 11 May.
Officers from the Met Police, who are trying to piece together broken fragments, said they would be contacting affected families.
Two men have been charged in connection with the thefts.
'Reunite recovered plaques'
Insp Nick Sparkes, of Kent Police, said: "The callous nature of those responsible is apparent, as they were prepared to cut up these plaques for their own gain, despite being a lasting memory to so many.
"We hope soon that we will be able to reunite loved ones with the recovered plaques, which are currently undergoing forensic testing.
"Although they remain in fragments, we will be contacting victims by letter in due course for those plaques which have been recovered."
The Met Police said they also recovered items stolen from a cemetery in Beckenham during the raid on a scrap dealer in Croydon.