Chilmington Green petition handed to No 10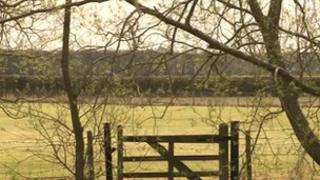 Protesters against plans for up to 5,750 homes on Kent farmland have handed in an 8,000 signature petition to No 10 Downing Street.
The proposed development, to include four new schools, health services and shops, would cover about 1,000 acres at Chilmington Green, south of Ashford.
"We feel that the whole development is unnecessary," said independent councillor Peter Davison.
Tory-run Ashford council has said it is under pressure to build houses.
The petition was handed in on the final day of a public consultation on the outline planning application.
'Difficult choices'
"There is a great deal wrong with it," said Mr Davison.
"When you consider there will be 25 years of construction traffic, there will be a loss of environment for the residents and a loss of quality of life.
"I don't think it is necessary at all, bearing in mind that in 2000 the town only had 21,000 houses.
"Since then we have built 7,000, we have got 9,000 waiting to be built and another 4,300 coming in to the planning system."
The Conservative group on the council said in a statement: "The issue of providing additional homes for future generations in Ashford is not going to go away and difficult choices are going to have to be made.
"Residents' views do matter and we have welcomed all the views expressed."