Severe weather: Thanet beaches stay closed and Kent cricket moves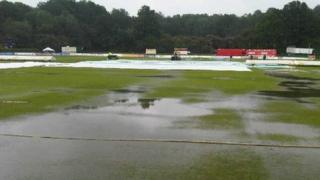 More than 20 Kent bathing beaches remain closed after raw sewage was discharged into the sea following heavy rain last month.
The rain has also forced Kent County Cricket Club to move its match against Sussex on Tuesday to Canterbury.
The club's first Twenty20 match of the season was relocated after flooding at Tunbridge Wells' Nevill ground.
The Environment Agency has warned of a continued risk of surface flooding across Kent, Sussex and Surrey.
The agency is monitoring its flood alerts , with 40 areas under watch - 32 in south-east England.
All of Thanet's beaches were closed when the Southern Water Foreness Point Sewage Pumping Station failed following heavy rain and raw sewage was discharged on 30 May.
Thanet District Council said cleansing teams had been working over the weekend to remove any further debris from the beaches and most of the sewage had now been removed.
'Hard work'
"The restrictions will also remain in place until firm assurances have been provided by Southern Water that all issues with the sewage pumping station at Foreness Point have been fully resolved," a council statement said.
Members of the public are being advised to stay out of the sea at all beaches and not to walk below the high tide line.
Mark Seed, from Thanet District Council, said: "By working closely with Southern Water and the Environment Agency, we hope to draw this matter to a swift conclusion.
"We're pleased with the initial water quality tests, and the hard work of our beach cleaning teams has been amazing."
Flash flooding in Tunbridge Wells caused Kent's Twenty20 cricket match against Sussex Sharks to be moved to the St Lawrence Ground in Canterbury.
Jamie Clifford, the club's chief executive, said: "The weather conditions at Tunbridge Wells have been extreme and we have been left with no option but to switch the fixture to Canterbury."