Thanet beaches re-open after sewage spill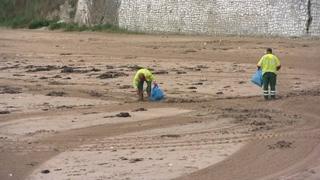 More than 20 Kent beaches have re-opened to bathers nearly two weeks after raw sewage was discharged into the sea following heavy rain.
All Thanet's beaches were closed when the Southern Water Foreness Point Sewage Pumping Station failed.
Thanet District Council said tests conducted by the Environment Agency confirmed that water quality had returned to safe levels.
The council also said it had received assurances from Southern Water.
Signs across Thanet's beaches will be removed on Tuesday and replaced with notices advising beach users that the ban on bathing has been lifted and to report any further incidents.
The beaches had been closed since 4 June but raw sewage started to enter the sea on 30 May.
'No more spills'
Mark Seed, the Thanet council's director of operations, said: "As an area that thrives on tourism, preventing people from swimming in the sea off our coast is something we would rather avoid.
"However we have a duty of care to members of the public, and couldn't lift the bathing ban until we received assurances from the Environment Agency and Southern Water."
The council said it had been given a number of reassurances about the management of the sewage pumping station and any future communications between it and the council.
A Southern Water spokesman said: "The pumping station has been repaired and is coping with the rain. There have been no spills this week."
Following the incident, Laura Sandys, Conservative MP for South Thanet, said the sewerage system was not "fit for purpose" and she would be meeting Southern Water and Thanet District Council.
Southern Water, which is in charge of the pumping station, said the recent waste water was "heavily diluted" with rainwater and was screened for "non-biodegradable" debris.