Kent cancer specialist Dr Howard Smedley failed patient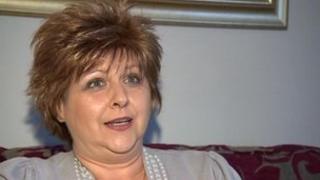 A Kent doctor's fitness to practise has been found by a medical watchdog to be impaired.
Retired consultant oncologist Dr Howard Smedley will now apply to the Medical Practitioners Tribunal Service to be removed from the medical register.
Canterbury cancer patient Debbie Westwick made a complaint amid claims that he gave her the wrong treatment.
A fitness to practise panel found the doctor failed to follow guidelines and his actions showed serious misconduct.
Mrs Westwick was first diagnosed with breast cancer in 2006.
She complained that Dr Smedley prescribed chemotherapy and radiotherapy instead of following the correct management protocol of a mastectomy.
'Significant failure'
Chairwoman of the fitness to practise panel Kathryn Whitehill said Dr Smedley had admitted he did not obtain properly informed consent to the treatment he provided.
She also said the doctor had not informed the patient that surgery was an option, or that it was recommended in recognised medical guidelines.
She said: "Taking into account all facts admitted and found proved the panel has determined that Dr Smedley's actions amount to serious misconduct.
"Dr Smedley's misconduct involved a significant failure to follow established guidelines in relation to the treatment of breast cancer.
"Although this was one episode of misconduct it was protracted.
"Dr Smedley had the opportunity to reflect upon the appropriateness of his treatment plan, but failed to do so."
'Too little too late'
The panel is due to hear an application on Wednesday from Dr Smedley's defence for "voluntary erasure" - a process where a doctor takes himself off the medical register.
If the application is not accepted, the panel will consider sanctions against the doctor.
The Medical Practitioners Tribunal Service has taken over running fitness to practise hearings from the General Medical Council.
After the hearing, Mrs Westwick said: "It all seems a bit too little too late but there's nothing I can do.
"I can make the best of the time I've got left. And I have to be honest, having the GMC part-settled and sorted means I don't have to waste energy on that any more."
She added: "I didn't expect any special treatment or a miracle cure, but I did expect the clinician looking after me to be competent and to provide me with the most effective treatment that was available.
"To discover along the way that your treatment has been poor or sub-optimal is like being diagnosed all over again."