Cancer doctor Howard Smedley taken off medical register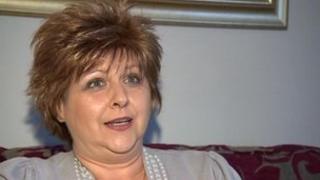 A Kent doctor is to be allowed to take himself off the medical register after his fitness to practise was found by a medical watchdog to be impaired.
A Medical Practitioners Tribunal Service (MPTS) granted retired consultant oncologist Dr Howard Smedley "voluntary erasure".
It previously found he failed to follow guidelines and his actions showed serious misconduct.
Cancer patient Debbie Westwick claimed he gave her the wrong treatment.
Mrs Westwick, who was was first diagnosed with breast cancer in 2006, complained that Dr Smedley prescribed chemotherapy and radiotherapy instead of following the correct management protocol of a mastectomy.
She was treated by Dr Smedley in Canterbury.
Nick Fairweather, who is Mrs Westwick's solicitor, said they were both satisfied with the outcome.
"He [Dr Smedley] has after the best part of three years been forced to admit to the shortcomings in Debbie's treatment," he said.
"But he's shown no contrition and he's not apologised for the substandard treatment he's given to Debbie."
'Retired from practice'
During the fitness to practise hearing earlier in the week, Dr Smedley had admitted he did not obtain properly informed consent to the treatment he provided.
Panel chairwoman Kathryn Whitehill also said the doctor had not informed the patient that surgery was an option, or that it was recommended in recognised medical guidelines.
Dr Smedley made an application for "voluntary erasure" - a process in which a doctor takes himself off the medical register following the hearing.
On Friday the panel ruled: "Dr Smedley admitted the allegations in full and the panel made a finding of impairment arising from his misconduct.
"Dr Smedley has retired from practice and also stated that he has no intention of returning to medical practice due to his ill health.
"Accordingly, the panel is satisfied in all the circumstances that it is right to grant Dr Smedley's application for voluntary erasure."
The Medical Practitioners Tribunal Service has taken over running fitness to practise hearings from the General Medical Council.